Duramatic Products is committed to a total quality system that is centered on continual improvement and unparalleled customer satisfaction. Our control system relies on employee involvement, process control and systematic problem solving to ensure that customers (internal and external) receive superior products and service.

Each team member at Duramatic Products has direct responsibility for continual improvement and customer satisfaction. We recognize that quality is what the customer says it is, and thus we continually strive to exceed our customers' expectations with our products and service.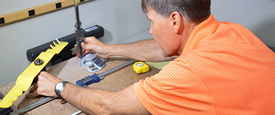 When it comes to quality, you can expect only the highest standards from
Duramatic Products!
To that end, in 1994 Duramatic was among the first in our industry to receive ISO certification, meeting exacting guidelines developed by the International Organization for Standardization. These standards outline a philosophy of quality management that, when applied well, yield exceptional products or services, and result in high levels of customer satisfaction.

This prestigious certification is awarded to companies worldwide who successfully pass an audit that examines how well these quality management standards are implemented, and verifies the compliance of company employees to the guidelines.

ISO audits are conducted every six months, and have marked Duramatic's ongoing achievements in quality for 25 years.

Since the late 1980s, several versions of ISO certification have been issued by the International Organization for Standardization, with the latest version, ISO 9001, issued in 2021. Duramatic Products is currently recognized as an ISO 9001 company, Certificate Number 30656.