Duramatic Products manufactures blades that are heralded internationally for their unmatched quality at competitive prices. We are a world leader in lawn mower and edger blade production, and at each step in our manufacturing processes, our blades undergo rigorous tests for hardness, uniformity and durability.

At Duramatic, we provide technical support for blade design, prototyping, testing and post-sales service. With our on-time delivery, customers receive blades that are guaranteed to meet exceptional quality and performance requirements. The following is a brief overview of our processes in blade manufacturing.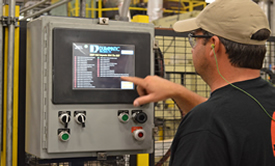 Cut Off or Blanking - All Duramatic blades start with high-quality, premium-grade steel that is processed into the flat body of the blade utilizing high tonnage stamping presses. This process includes punching the hole pattern, stamping part numbers and ID codes into the blank, and uniquely shaping the extreme ends of the blank.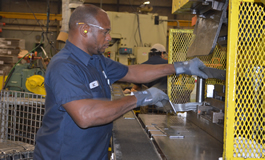 Milling - This process machines the two cutting edges into the blank (one cutting edge on each end of the blank) through the use of high-speed carbide cutters.

Forming - The blank goes through a shaping (bending) process to form the sharpened blank into its final shape.

Heat Treating - An austempering heat-treating process is utilized to harden the blade without removing ductility so the blade will retain toughness to properly wear and function in a safe manner.
No other heat-treating process delivers the combination of hardening, ductility, minimum distortion and minimum decarburization. This ensures Duramatic blades wear properly and perform safely while resisting brittle fatigue and premature dulling of the cutting edge.


Straightening - This process positions the cutting tips of the blade in the same plain, and every part is inspected for flaws.

Finishing - Duramatic offers powder paint coating in various colors.

Labeling - In this final step, blade labels are affixed including an identifying part number, description, logo and bar code; all useful in helping our customers manage their inventory.