Duramatic Products
"Employee of the Quarter"
















August 2023
Duramatic Products is proud to announce that Mr. Gabriel Dunson has been selected as the Employee of the Quarter! Mr. Dunson hails from Glennville, Georgia, and has been an employee at Rotary and Duramatic since 2003.

"Gabe" works as the Lead Man in Duramatic Products' Finishing Department. He is responsible for the routing and movement of parts within the department, set-up of parts, and then once they are done, the proper packaging, marking, and counting/ weighing the parts before they can be shipped. Gabe works diligently to ensure that a superior product is delivered to our customers.

Gabe frequently volunteers to stay late and work on weekends and holidays, to ensure that his department is operating at peak efficiency. According to his Supervisor, Linda Gail Richardson, "Gabe always uses a consistent work ethic to make sure that the job gets done correctly. He handles a multitude of tasks with maximum effort and is vital to the success of our department."

Gabe is definitely a critical component to the Duramatic team. He is consistently moving his department and the company forward through hard work, dedication, productivity, and commitment.

Congratulations Gabe, we couldn't have done it without you!
Duramatic Products
"Lead Goose Award"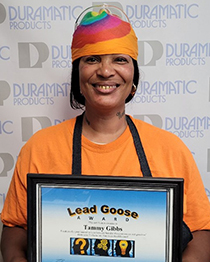 May 2022
Please join Duramatic Products in celebrating Tammy Gibbs, our newest "Lead Goose" awardee!

Tammy lives in Claxton, GA. She has been an employee of Duramatic for 18 years, and currently works in the Finishing Department. Throughout her time here at Duramatic, Tammy has always worked hard and done her best to achieve all that has been asked of her. "Tammy is an integral part of our team in the Finishing Department", said Linda Gail Richardson, Tammy's Supervisor. "I can always depend on Tammy to get things done." Recently, Tammy was faced with the difficult task of having to improvise to keep the production line running- and, due to her expertise and can-do attitude, she was able to do so with hardly any interruption, while still upholding Duramatic Products high standards of safety and quality control.

From everyone here at Duramatic, a hearty congratulations goes out to Tammy Gibbs! We couldn't do it without you!

Rotary reaches blade manufacturing milestone

June 30, 2020

Rotary Corporation has announced the production of its 250 millionth lawn mower blade at the company's manufacturing division in Glennville, GA.
"If we could place all the blades that we have ever manufactured from end-to-end, they would circle the earth nearly three times," commented Dennis Lamb, Rotary's chief manufacturing officer. "That's certainly a lot of mower blades and it's a tribute to the hard work of our many dedicated employees over the years."
General Manager Tim Cooper added, "Even with the latest automation and technology, people remain our biggest asset. Our team members take exceptional pride in meeting stringent quality guidelines in every phase of the manufacturing process. Their commitment has been the key to our continued growth and success."
Rotary began manufacturing mower blades in 1967. The operation has evolved from a small production line into a state-of-the-art facility featuring robotics, a cutting-edge heat treatment process and a powder coat finishing system that was installed in 2017. The company produces one blade every four seconds and more than 12 million annually including Copperhead brand commercial mulching blades and a variety of flat, high and low-lift blades.
In 1994, the company became one of the first in the outdoor power equipment industry to become ISO certified for meeting high quality standards. Today, Rotary blades are sold in all 50 states and more than 75 countries around the globe.
"We are proud to manufacture world-class mower and edger blades right here in the USA with American steel," commented Rotary CEO Ed Nelson. "We uphold the highest quality standards and we have continued to make upgrades and expansions throughout our manufacturing operation to meet demand and integrate today's technology. Our goal remains the same - to build the world's finest quality blades at competitive prices."