Duramatic Products
"Employee of the Quarter"
April 2017— Duramatic Products is proud to announce that Mrs. Rosi Johnson has been selected as the Employee of the Quarter. Mrs. Johnson hails from Glennville, Georgia, and has been an employee at Rotary and Duramatic since 2007.

Rosi works as a Press Operator and Set-up Supervisor in the Cut-off Department. She is responsible for the safe and efficient operation of cut-off presses, producing thousands of parts a day for the company. In fact, her production rates were some of the highest in her department, producing substantially more than what was required.

Rosi also has a consistent eye for quality. She strives for perfection in all that she does, ensuring the timely and accurate set-up of cut-off press dies, and other machinery associated with the process. Rosi always makes sure that every step in the process is followed to the letter, guaranteeing that a quality part is produced by her department, time after time.

According to Frank Benton, "Rosi shows exceptional attendance and punctuality. She also has a positive personality that is infectious with her co-workers." Rosi volunteered to transfer to the second shift for her department, setting an awesome example for leadership and dedication to her department, and to Duramatic Products.

Rosi is definitely a critical component to the Duramatic team. Her attention to detail ensures that Duramatic Products can deliver a quality product to its customers, without fail. Congratulations Rosi, we couldn't have done it without you!
Paulette Morgan Earns Green Belt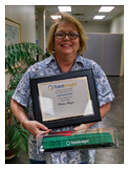 June 2015—
Paulette Morgan of Duramatic Products was presented her Green Belt in Lean Manufacturing on May 28th, 2015. A Green Belt certification holder is someone who is well versed in lean methodology and who leads and supports improvement projects. Paulette earned her Green Belt by attending 80 hours of class room training, writing a Value Stream Map, contributing to a class project kaizen event and participating in three additional kaizen events. By receiving the certification, Paulette joins an elite group of Green Belt holders at Duramatic that includes Ric Schreihofer, Linda Gail Richardson and Michael Holland.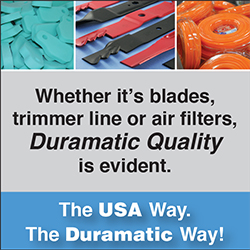 Duramatic eyes 20th anniversary of ISO
certification in 2014

In 1994, Duramatic became a forerunner in the outdoor power equipment industry by earning prestigious ISO 9002 certification for lawn mower and edger blade manufacturing, meeting exacting guidelines developed by the International Organization for Standardization.

"2014 will mark the 20th anniversary of our initial audit," commented Dennis Lamb, general manager at Duramatic. "ISO audits are conducted by an accredited auditing firm every six months, and mark Duramatic's ongoing achievements in quality production for nearly 20 years."

ISO standards for the manufacture of lawn mower and edger blades outline a philosophy of quality management that yields exceptional products or services and result in high levels of customer satisfaction.

Duramatic reaches milestone
in blade production during 2014

Total blade production at Duramatic Products since its inception in 1950 surpassed 200 million during 2014 according to Dennis Lamb, general manager at Duramatic. Duramatic produces one lawn mower or edger blade approximately every 2.7 seconds.

"This is certainly a milestone for our company," commented Lamb. "We take exceptional pride in producing blades that are recognized around the world for outstanding performance, proven reliability and unsurpassed quality. Reaching 200 million blades is a production milestone we are extremely proud of and it's a tribute to the commitment of our team members to manufacture the very best blades on the market...without exception."

Duramatic blades meet stringent quality benchmarks including dimensional tolerances, hardness standards and ductility requirements. Blades are checked by Rockwell hardness tests, bend tests and impact tests to ensure that production meets ANSI quality standards and exceeds customer expectations.

Duramatic Team
Wins Contest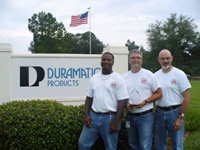 August 2015— In December of 2014, Georgia Tech's Lean Consortium hosted a statewide "Poka-Yoke" contest. Poka- Yoke is a Japanese term that means to make something mistake or error proof. The concept was to improve, invent or modify an existing process or procedure; while using creativity before capital. The Duramatic Lean Team consisted of Robert DeJarnette, James Holloway, David Murphy and Ric Schreihofer. They created a locking device that prevents carts loaded with blades from tipping over when being placed in the finishing line. This simple idea reduces the potential for injury, creates a standard process for all employees to perform the action the same way, and saves the company time and money by eliminating re-work. Using Lean Manufacturing tools, scenarios were tested and a solution was implemented. The Duramatic submission competed against manufacturers from across Georgia. Voting was a peer judged event, and Duramatic was selected as the winner in July. The team was recognized by Alan Barfoot of the Georgia Tech Manufacturing Extension Partnership.