Duramatic Products
"Employee of the Quarter"
April 2019-; Marquette "Boo Boo" Berry is the Duramatic Employee of the Quarter for 2nd Quarter, FY 2019.

"Boo Boo" hails from Glennville, Georgia. He has been an employee of Duramatic for over 17 years, and currently works in the Heat Treat Department. Throughout his time here at Duramatic, Marquette has always been very quick learner, and eager to take on more responsibilities within his department. He always makes for an excellent team member, and can be counted on to help in other departments when the need arises. Marquette is committed to the goals set forth by Duramatic Products- to safely deliver a quality product that enhances the customer experience.

"Boo Boo has been a big reason behind our continued success", says Dale Thomas, Berry's supervisor. "He constantly maintains high production rates, and tries to find ways to improve himself, and find ways to help make the company better, every day". Marquette was recently selected to move to the night shift as a Lead Man, which brings with it some added responsibilities- not only producing product, but setting up machinery and equipment to run. Not only did Marquette volunteer for it, but once in that position, has thrived at it. He has become an example that the newer operators can look to, both as an example to follow, and as a source for information and institutional knowledge.

From everyone here at Duramatic, a hearty congratulations goes out to Marquette "Boo Boo" Berry on a job well done!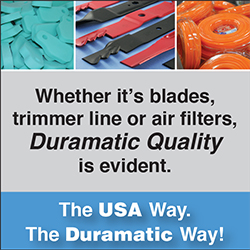 Duramatic eyes 20th anniversary of ISO
certification in 2014

In 1994, Duramatic became a forerunner in the outdoor power equipment industry by earning prestigious ISO 9002 certification for lawn mower and edger blade manufacturing, meeting exacting guidelines developed by the International Organization for Standardization.

"2014 will mark the 20th anniversary of our initial audit," commented Dennis Lamb, general manager at Duramatic. "ISO audits are conducted by an accredited auditing firm every six months, and mark Duramatic's ongoing achievements in quality production for nearly 20 years."

ISO standards for the manufacture of lawn mower and edger blades outline a philosophy of quality management that yields exceptional products or services and result in high levels of customer satisfaction.

Duramatic reaches milestone
in blade production during 2014 and again in 2018

Total blade production at Duramatic Products since its inception in 1950 surpassed 200 million during 2014 according to Dennis Lamb, general manager at Duramatic. Duramatic produces one lawn mower or edger blade approximately every 2.7 seconds.

"This is certainly a milestone for our company," commented Lamb. "We take exceptional pride in producing blades that are recognized around the world for outstanding performance, proven reliability and unsurpassed quality. Reaching 200 million blades is a production milestone we are extremely proud of and it's a tribute to the commitment of our team members to manufacture the very best blades on the market...without exception."

Duramatic continued this productive path by exceeded 1 million blades in the month of October 2018. Duramatic employees completed the month by manufacturing 1,061,073 blades.

Duramatic blades meet stringent quality benchmarks including dimensional tolerances, hardness standards and ductility requirements. Blades are checked by Rockwell hardness tests, bend tests and impact tests to ensure that production meets ANSI quality standards and exceeds customer expectations.